Powerful forests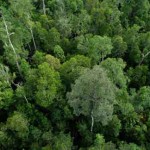 Scientists say that forests can play an even more important role in combating climate change than previously thought, according to the most comprehensive study on forests and how they absorb carbon from the air.
Everybody knows that trees need large quantities of greenhouse gas CO ² to grow, storing the gas in their trunks and roots. What scientists did not yet know exactly was how much is Co ² is absorbed in the various parts of the world and the global total of how much is released into the atmosphere when forests are cut down or burned.
The study, published last Friday by the U.S. Journal of Science details for the first time the volumes of CO ² absorbed by the atmosphere by tropical, temperate and boreal forests. According to the study, forests absorb more than 10% of carbon dioxide caused by human activities like burning coal, even taking into account the emissions caused by deforestation.
This analysis puts forests at even a higher level of importance in regulating atmospheric CO2," said
The analysis puts forests at even a higher level of importance in regulatig atmospheric CO². CO ² emissions from burning fossil fuels and deforestation do  not stop growing. Last year they grew 5.8% or  33.16 tons of greenhouse gases. Only China issued a total of 8.33 billion, more than 10% than  the previous year.
A major surprise was to learn that regrowth of tropical forests is responsible for absorbing more carbon than previously thought: six billion tons of CO ², which represents the total amount of CO ² emitted by the U.S. for one year.
The news are very important for the UN program REED-Reducing Emissions from Deforestation and forest Degradation: young forests store more carbon than forests  established tropical forests.
Overall, regrowth forests and forests in the tropics stock down 15 billion tons of CO ², or almost half of emissions caused by industry, transport and other sources.
(World Environment News)