Lesson 3: Pollution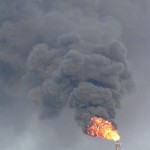 The first thing the travellers from Planet Uno noticed when they arrived in Earth was it seemed  very different from the images they had seen. Now, the inhabitants of Earth had machines that rolled, others that flied and a lot of buildings around.  The color of the sea was dark and  the air was not clean. There was pollution.
(Chapter III – Back to Earth / The Mission to Planet Earth in Sofia).

What is pollution?
Pollution is the action of harmful substances that contaminate water, soil or air.
Harmful substances can come from waste, the greenhouse gases, the chemicals etc.