The Speech of Sophia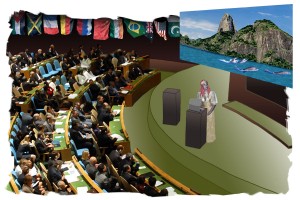 ___ Good evening, ladies and gentlemen. My name is Sophia. I have come from a distant planet that lies beyond a portal of a neighbour galaxy. I have come to see the beauties that marvelled my ancestor, Prince Solo. But what I saw when I arrived here filled my heart and my mind with the deepest concern.
I saw a blue bay turned dark because of dirt; and machines and buildings that thwarted  the landscape's beauty. I saw a forest being destroyed and children doing the work of adults. I have been in a city that can not store the waste it produces. I was made prisoner of rebels that irresponsibly exploded a deposit of fuel and polluted the air of an entire region. But I also have been touched by the good and beautiful which exist here. I've made friends and had fun with them. I felt the emotion of seeing a waterfall that has remained wonderful despite the millennia and I see in this city a promise of a better future.
In the name of all the youth that strives to protect the environment and of all who have the right to a future, I hand in a legacy that belongs to you and that shall forever remain as a reminder of what you must realise:
Nature is your only and true wealth.
Chapter X – Sophia's Legacy, from the book Sophia's Mission on Planet Earth.