World Environment Day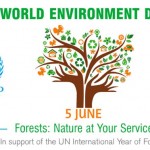 WED / World Environment Day 2011 features  an exciting , high-profile challenge between the UNEP Goodwill Ambassadors, Don Cheadle and GiseleBundchen.
They  are both committed to make a difference in the International Year of Forests. To participate, we must choose Gisele or Don and register your action for the World Environment Day.
Gisele pledges to plant one tree for each activity registered in her name, if she wins the challenge. Don Cheadle ups the ante with a pledge for two.
On  June 5th, with the help of the global communityof World Environment Day, the winner will plant a new forest, leaving a perfect legacy for World Environment Day in the International Year of Forests.
Record your activities on page Challenge WED, and vote for the team of Don or Gisele. More videos on WED website.
No ideas how to join? Download and embed videos on your website or blog, Facebook or Twitter pages!
You can make a difference too. Believe it!