Weather or climate?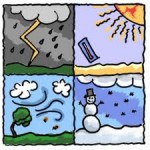 The day is hot and you risk saying: "Must be global warming." Can it be climate change the cause of such a hot day? Maybe or maybe not.
First, we should know the difference between weather and climate. Weather refers to what happens in the atmosphere at a given time and includes temperature, rainfall and humidity. Weather varies accordingly to a region can change suddenly. You can wake up in with a bright sun in Rio de Janeiro and  have rain in the afternoon. Meteorology studies the weather. The weather forecast is made for only a few days because the weather conditions are always changing.
The climate is the set of conditions in the atmosphere at a particular location for a long period of time or many years. Climate refers to a pattern to be repeated. The climate at the north pole is very different from the climate of a country near the equator, where the sun is closer to Earth, and you have more heat. Hot days are characteristic of various regions of the world, even before global warming.
When we talk about climate change, we are saying that the weather pattern for the entire planet has changed. The average temperature across the planet is higher, and that is why we have global warming. The climate is different, with greater contrasts: heavy rainfall and severe drought.