Solar Parish – an illuminated initiative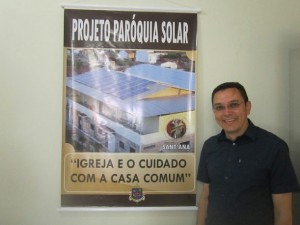 This story takes place in Sousa, a city in the Brazilian state of Paraíba.  The Catholic priest Paulo Diniz started the Solar Parish project inspired by Pope Francis in his encyclic Laudato Si "On care four our common home".
The Solar Parish system has been inaugurated July 6 and is connected to the electricity grid of the Paraíba distribution company, Energisa. The photovoltaic panels installed on the roof of the Parish Centre generate energy for the church and the center, which includes offices, auditoriums, and indoor sports arena.
The initiative saves the costs of conventional electricity and provides more resources for social projects. "We were paying about 4,000 reais ( US 1,070 ) a month for electricity and that cost fell to about 300 reais (80 dollars)," says the priest who is in charge of the Sant'Ana Parish of Sousa, now deserving the name "Solar Parish.
Priest Paulo has an important message: "It is more than an energy issue, it is a question of being in tune with Laudato Si". We understand it is the recognition of the urge to preserve our blessed gift: Earth!
Source: IPS – Interpress Service
Img: Projeto Semi-árido Solar.