Victory for Bees!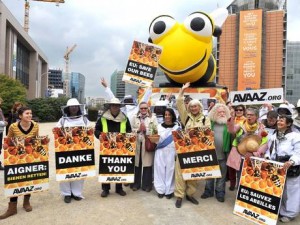 Europe has banned yesterday  pesticides neocotinoids responsibles for destroying the population of bees.
15 of the 27 member states of the European Union voted by a restriction of two years to pesticides.
The victory is for bees over the strong lobby of the chemical industry and the opposition from countries that did not want the ban.  The pesticides  manufacture are  German Company Bayer and  Swiss Syngenta.
The populations of bees have declined worldwide and for two years this pesticide nerv-agent (nerve agents) are prohibited in cultures that attract bees.
More than 30 independent scientific studies have found a link between the neonicotinoids and the drop in the number of bees. The proposal to ban the insecticide was based on a study by the European Food Safety Authority, which concluded in January that pesticides pose a risk to the health of bees.
Those against the ban argue that pesticides are important for agriculture food, but today we know that if it is "pesticide" it can not be good because they are toxic!
Source: Independent, 29/04/2013