Photosynthesis is carbon sequestration?
I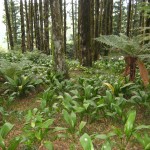 Carbon sequestration is withdrawing carbon dioxide gas or CO2 from the atmosphere.
The trees make the withdrawal  of CO2 from the atmosphere which is known as photosynthesis. Photosynthesis is the conversion of environmental factors into food for plants.
The plants feed on light, water, and carbon dioxide.
Photosynthesis takes place in three steps:
1. Plants suck carbon dioxide or CO2 from the atmosphere.
2. Plants convert CO2 into sugars.
3. The sugars are turned into cellulose which consists is the fibers plant fibers and wood from the trees.
Thin trees sequester less carbon than thick trees. Sequoias has sealed carbon for hundred years.
Any process that removes carbon dioxide (CO2) from the atmosphere and deposits it in a reservoir can be considered carbon sequestration. The term has become popular because of global warming and the necessity of removing greenhouse gases from the atmosphere.
When we plant a  tree, we are helping to sequester carbon and improve the greenhouse effect. Plant a tree and help to avoid the disasters brought with climate changes.