What is Pre-salt?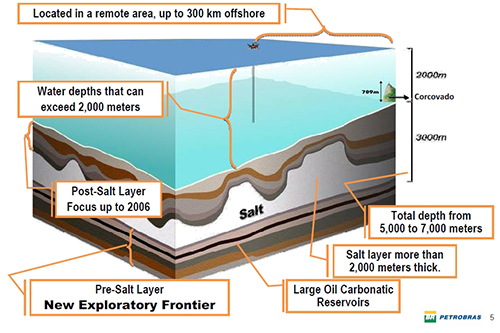 March 22, Water Day. Preserve our oceans.
The pre-salt denomination is used to designate geologic layers that were formed before salt layer was accumulated above it. When the oil found above the salt layers was over,  companies and governs became interested interest in the pre-salt layer.
In the end of 2007, a large oil reserve was found  300 km off the Brazilian coast, between the states of Espírito Santo and Santa Catarina. The Brazilian pre-salt layer was formed 160 million years and is between 5.000 and 7.000 meters, below the sea floor beneath the 2,000m salt layer.
In addition to the high depth of the layer and the difficult working conditions in the ocean, the biggest challenge for geologists and engineers was to access the reserve, which is between 5.ooo and 7.ooo meters below the sea floor, located under the salt layer of 2.000 meters.
Oil is a fossil fuel that  puts greenhouse gases in the atmosphere, causing global warming and climate change, and affect human health.