Paris, COP 21: an agreement for the next generations!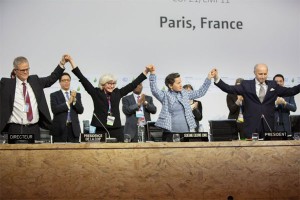 Young people did not participate as it tells the story of the book, but the meeting just aimed to secure a future for children and youth and all future generations. Representatives of 195 countries defended the right of future generations to live safely on Earth.
As in the book, there were many tears and excitement when the deal was announced! Global leaders raised their arms holding hands in celebration while some wept with emotion, showing how important it was to arrive at this result. The agreement, described by many as the most difficult, most complicated and most important to mankind will take effect from 2020 and will be reviewed every five years.
We had to put a limit on global warming caused by fossil fuels that cause climate change with substantial damage to humans and the nature of the planet. Floods, droughts, hurricanes are the temperature rise effects.
At the heart of the text of the agreement, we read:
"Holding the increase in global temperature below 2 O and C above pre-industrial levels and persue efforts to limit the increase in 1.5o C above pre-industrial levels, recognizing that this would significantly reduce the risks and impacts of climate change. "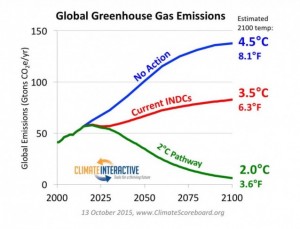 The graph shows that if we do nothing, we will reach the blue line 4.5 C with fatal consequences. If we continue as we are, the heating will be 3.5, which will put humanity to  a great risk, but if  reduce  the  emissions of greenhouse gases to 2.5OC on the green line, we can live well on our planet.
We believe that the most important was the fact that 195 countries have united on a common cause, without fear of terrorist threats. With courage, with organization and with the awareness that the world needs to change to Clean adn Renewable Energy!
Source: Tunza, BBC, The Guardian.