22nd International Children's Painting Competition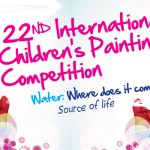 The competition is organized by the
United Nations Program for the Environment
and Japan baded Foundation for Global Peace and Environment FGPE, Bayer and Nikon Corporation.  The theme for 2013  
"Water: Source of Life."
Valuing water is a priority for the environment.
To participate you must be between 6 and 14 years and have your  birthday until the day June 5, 2013. This date is the World Environment Day. Participants will have until 29th February 2013  to submit their entries.
The competition is divided into two parts: domestic and international.  When you  join the national stage (in your country of birth)  you are  also competing for the regional prize of your region Latin America, Europe, Africa, Asia Pacific or West Asia and for the international award among all regions.
Creativity and respect for the theme is a first step to win the contest. Winners receive a cash payment and a trip for two to the International Youth Conference Tunza program. Tunza means "to treat with care" and the program is to bring information and empower young people to "treat Mother Earth with care" and act for a better world!
Source: Unep
For more information, send an email to children.youth@unep.org