Schools of the future
No one doubts the future will be different, but how the cities of the future will  the cities of the future look like ? And the schools?
The  Lava and Arup project has been  praised in  an Australian  competition for devising  schools of the future. The aim was to introduce sustainable classrooms. The spaces should be integrated with the landscape and make the connection to the school environment, and should be  suitable for pre-fabrication and customization.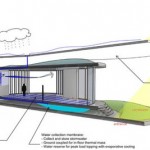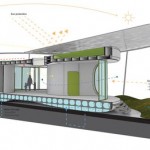 The schools of the future would be built according to the local climate.
In rainy days, the rainwater on the roof is stored in a reservoir. The classrooms can be modified according to different climates. For example, in temperate climates water can be fed in a pipe system to create radiant mass termite to  help regulate the temperature inside.
In arid climates, evaporative cooling is used to help reduce energy consumption on hot days, and  heating in winter is provided by solar thermal collectors, which are connected to a condensing boiler. The roof also uses thin-film photovoltaic cells for solar energy.
LAVA and ARUP's proposal was one of 116 submissions exploring diverse ideas for future-proofing relocatable learning spaces.