The Future is Electric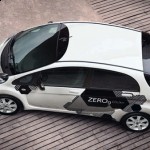 The Paris Motor Show, held form October 2-17, had a lot of highlights, with major firms and smaller ones displaying their best car models. Among many trends, you could notice one theme: the future of cars is electric.
All sort of electric vehicules, charging system and battery innovations were there. Ten 100%  electric cars demonstrate with no doubts that transport future is clean energy!
source: Treehugger.