Planting Atlantic Forest Seedlings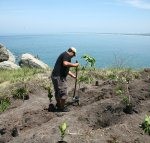 On June 1st 2010, Planetativo Project sponsored the planting of seedlings correspondent  to the graphic production of our book.
Every product we consume comes from nature. The  book Sophia 's Mission on Planet Earth / A Missão de Sofia no Planeta Terra  was also made with nature's resources. The paper came from trees; the ink from vegetable oil or petroleum,  and  energy was used to run computers and industrial machines during  process of the book. This causes a change in the environment that we call environmental impact.
To reduce the environmental impact of print production and the consumption of paper to print the book, we participated in the  Projeto Verde Amanhã / Project Tomorrow  Green. The project designs and calculates the number of trees used to print the quantity of books published and plants the correspondent Atlantic Forest  seedlings to compensate.